After just a short plane ride from Melbourne, we arrived in Gold Coast where we were hosted by the amazing Marc & Janelle. Shane had first met this dream team during his time in Italy when they invited him and his buddy Ryan onto their boat to yacht down the coast of Italy as part of M&J's many-month boating cruise around the Mediterranean. Marc's ability to make restaurant quality ethnic food and Janelle's background as both masseuse and author may also make them the most interesting couple in the world…and phenomenal guides for our time in Gold Coast.
We started off our first day with a beautiful breakfast from Elephant Rock Cafe right on Currumbin Beach. Once fed, no time was wasted in seeking out what had eluded us for the first half of our time in Australia...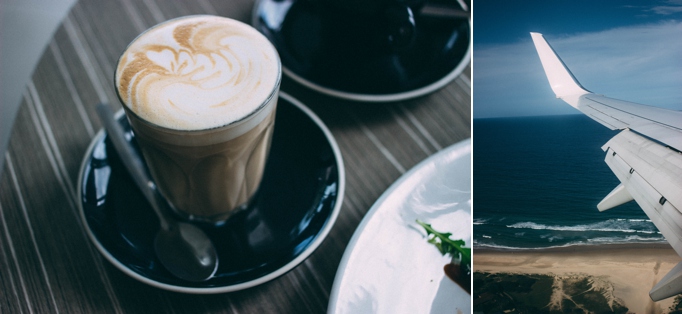 KANGAROOS! Just a couple miles from the airport is the surprisingly expansive Currumbin Wildlife Sanctuary that has all of the OZ animal favorites that you don't just want to hope seeing in the wild. As a huge draw for locals and tourists alike, this is one you don't want to miss but make sure you check around online for discounts and promotions before you show up. On a Groupon-like website, we were able to score almost 50% off and discounts on food and drinks.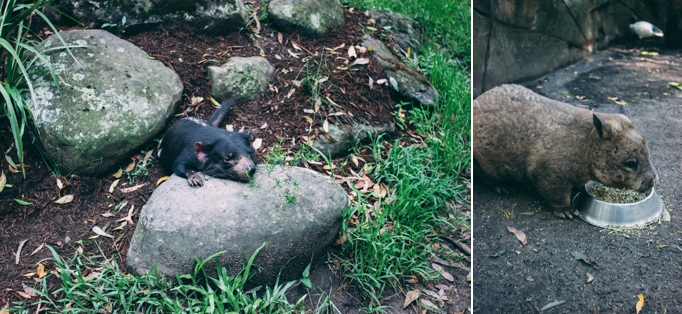 Still on a high from all the time spent with our furry friends, we were ready to tackle another beloved Gold Coast stop the next morning: Tamborine Mountain. This small community is nestled into the Scenic Rim mountain range and overlooks the Gold Coast as far as the eye can see. Capitalizing on the incredible vista, a collection of boutique shops, artists and restaurants have concentrated along the one main road (referred to as the Gallery Walk) and are complemented by nearby nature attractions. Slightly off the main path was the delicious cafe/restaurant, Drift, that served as a wonderful breakfast stop and shelter from the occasional rain.
Just a couple kilometers from Drift is the iconic Curtis Falls that is often the poster child for Tamborine Mountain. Easily reached within 10 minutes from the carpark, it's not a bad way to work off your Eggs Benedict and latte. Other options include (the slightly overpriced) rainforest skywalk, glowworm caves, or paragliding off the western rim...depending on how big of a breakfast you had.
Don't miss out on Tamborine's expansive collection of wineries, breweries, and distilleries all congregated on the mountain top. We opted for the delicious Fortitude Brewery and a tasting platter from it's award winning neighbor, Witches Chase Cheese, Co. A choice we did not regret.
Of course, no trip to the Gold Coast would be complete without copious amounts of beach time. A legendary surfing location from Shane's childhood, Byron Bay was an absolutely must do. This once sleepy beach town has exploded in popularity and the little streets are now lined with surf-chic restaurants and shops. Perfectly fitting this mold was the Byron Fresh Cafe that serves up heath-conscious meals and delicious smoothies of all varieties. Then make sure to stay hydrated on the beach (and look like an uber-tourist) by picking up a fresh $5 coconut from one of the several vendors perched along the shore.
Not far up the coast is the more local-centric, Burleigh Beach. To complement the sunbathing and surfing is a local market of artisans that setup every Sunday in the shade of the trees. We were able to find additional refuge from the heat on the breezy southern point of the beach that offers a great view of the golden coastline.
As a respite from the HOT Australian sun, we took a little detour 45 minutes inland to the Natural Bridge in Springbrook National Park. A 20 minute walk brings you to rushing falls that drop under this massive rock arch. As an added bonus, the cave at the base of the falls is full of bats and glowworms!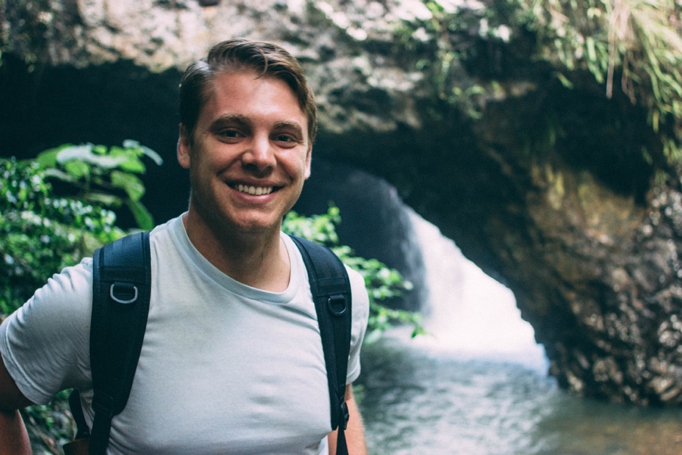 A huge thanks to our generous and awesome hosts, Janelle & Marc - who gave us some stellar recommendations, cooked us AMAZING meals, and even introduced us to their sweet and wildly fun friends. Thank you so much!! We can't wait until your French canal boat tours take off and we can be some of your first American customers (if you'll take a couple Yankees)!
Last but certainly not least, what may or may not be our very favorite picture so far, we give you... the kangaroo selfie.
We so wished we could have had more time to explore Australia, but now we have an excuse to go back. Where are some of your favorite spots in OZ?? Next post - New Zealand!